150L Direct Flat Plate Retrofit Solar Geyser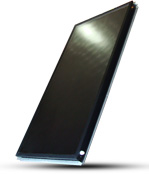 One of the most popular products from Power & Energy Solutions uses a high efficiency flat plate collector retro-fitted onto existing Kwikhot electrical geysers. The NuPower collector carries a ten year warranty. Circulation is controlled by an advanced solar differential controller which also manages the back-up element and various other safeties and temperature limit set points.
• Available in 150 Litre systems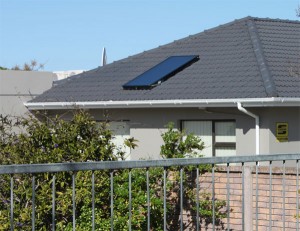 • Eskom Rebate: R4795
• SABS Approved
These systems come in either 230V or 12V configurations for the pump and controller.For areas where power failures are a concern the 12V systems offer battery back-up, so circulation still takes place when there are power failures. The battery is charged from a mains powered trickle charger (much like an alarm or gate motor).
Photo gallery – Flat Plate Retrofit Solar Geyser Installations
Click on the photos to view a larger version
Click the link below to fill out a solar geyser enquiry form

Solar Geyser Savings Calculator
One of the main questions everyone wants to know when purchasing a solar geyser is, "How much money will I save with a solar geyser"? It's a valid question. So, to give our customers an idea we have created a Solar Savings Calculator. Just enter in how much your monthly electricty bill is and let our Solar Geyser Savings Calculator do the rest.