Evacuated Tubes Retrofit Solar Geyser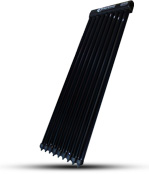 The CSKE Evacuated Tubes Series
The highly efficient solar geyser retrofit solution using your existing conventional geyser.
Save up to 40% on your electricity bill.
Evacuated Tubes Retrofit Features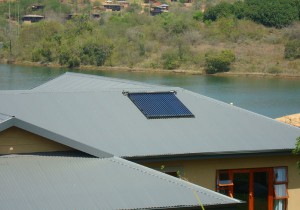 10 year guarantee

SABS approved

Expected life span of more than 20 years

Tubes absorb 93% of the sun's energy

Able to withstand hail stones up to 38mm

NuPower only uses 2mm thick glass tubes

System is freeze resistant

Works even on a cloudy or rainy day because the system uses the full light spectrum

Works even if a tube is damaged
Photo gallery – Evacuated Tube Retrofit Solar Geyser Installations
Click on the photos to view a larger version
Click the link below to fill out a solar geyser enquiry form

Solar Geyser Savings Calculator
One of the main questions everyone wants to know when purchasing a solar geyser is, "How much money will I save with a solar geyser"? It's a valid question. So, to give our customers an idea we have created a Solar Savings Calculator. Just enter in how much your monthly electricty bill is and let our Solar Geyser Savings Calculator do the rest.