Low Pressure Gravity Feed Solar Geyser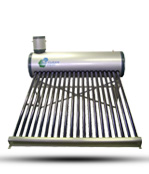 Our locally produced gravity feed systems offer excellent value for money, and are perfect for rural areas and low cost housing projects.
This system uses UV absorbent evacuated tubes as opposed to flat panels, thereby increasing efficiency and ensuring hot water even in overcast and cold conditions.
Low Pressure Solar Geyser Power Points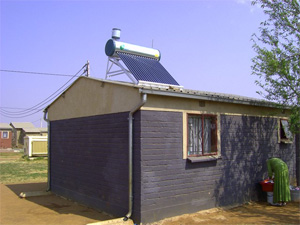 5 year guarantee and roof support
SABS approved
Life expectancy of around 8 years
Sizes available: 100L, 150L and 200L units
1 year guarantee for the auxiliary tank & accessories
Tubes can withstand 30mm hail impact
Tank can withstand approximately 0.5 bars/50kPa pressure
Click the link below to fill out a solar geyser enquiry form

Solar Geyser Savings Calculator
One of the main questions everyone wants to know when purchasing a solar geyser is, "How much money will I save with a solar geyser"? It's a valid question. So, to give our customers an idea we have created a Solar Savings Calculator. Just enter in how much your monthly electricty bill is and let our Solar Geyser Savings Calculator do the rest.