Complete Solar Power PV (photovoltaic) Systems
Power and Energy Solutions provides the supply, installation and service of high quality and cutting edge technology solar panels, solar products and complete solar systems including regulators, inverters and batteries. This truly green technology is the wave of the future in South Africa, allowing you to reduce both your energy costs and your carbon footprint.
What will I need for my solar system?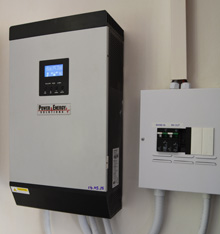 Power and Energy Solutions offers a complete range of solar products so you can customize your system to perfectly fit your solar power needs. To make things simpler we have devised several starter kits which can help you go green quickly and easilly. These solar kits contain panels, batteries, a regulator and an inverter. In addition to our products we offer site visits with our team of experts that will create a solar solution customized for your home or business and see the project through to its finished installation.
How Does It Work?
A typical solar panel is made up of solarcells, or photovoltaic cells. These cells convert the energy from the sun into electricity. The electricity then passes through a battery regulator or controller, this is to make certain that the batteries don't over charge and have a long life span. After the battery stores the power it must finally pass through an inverter to convert from DC to AC current, and then it is ready to send electricty into your home or workplace.
Solar Power Process Diagram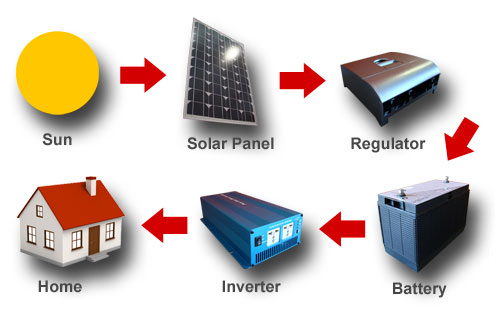 Tell us what you need.
Drop us an email and we'll get back to you right away.