SOLO Integrated Solar Geyser 85L
All in one solar water geyser system
Combines a solar panel and hot water tank into one lightweight unit.
SOLO Integrated Solar Geyser Features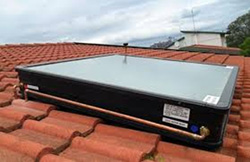 Cost effective

Easy to install on to any roof surface

Compatible with high and low pressure connections

85L capacity

The geyser is modular, which means you can add additional SOLO geysers to increase your capacity to 170L or 250L and so on

Modern, good looking design

No metal parts which means no rust, no corrosion and no water contamination

Lightweight and shatterproof (4mm Glass)

Manufactured in South Africa, 5 year guarantee

.
Click the link below to fill out a solar geyser enquiry form

Solar Geyser Savings Calculator
One of the main questions everyone wants to know when purchasing a solar geyser is, "How much money will I save with a solar geyser"? It's a valid question. So, to give our customers an idea we have created a Solar Savings Calculator. Just enter in how much your monthly electricty bill is and let our Solar Geyser Savings Calculator do the rest.